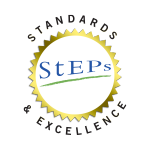 Exciting changes are happening at the more than 1,000 organizations taking part in the StEPs program (Standards and Excellence Program for History Organizations).
Our "StEPs Spotlight" blog series highlights accomplishments by participating organizations.
Below is another example of how StEPs is helping organizations take a leap forward by improving policies and practices, opening lines of communication, and setting goals for a bright future.
AASLH is proud to announce our eighth national StEPs graduate!
Manitowoc County Historical Society
Manitowoc, Wisconsin
By Amy Meyer, Director, Manitowoc County Historical Society
The Manitowoc County Historical Society, formed in 1906, is one of the oldest historical societies in Wisconsin. Formed by early community and civic leaders, the society began acquiring Civil War and early immigrant items to preserve and display. Throughout the 1970s, the society grew with the donation of forty acres to create a historical village. Enthusiasm for Pinecrest Historical Village continued to build as various structures were carefully moved, preserved, and furnished as living history exhibits. All of the work was completed by volunteers to create this unique museum. Today this sixty-acre interpretive museum of local history features a welcome center with local history exhibits and research services and the outdoor Pinecrest Historical Village, now a collection of over thirty historic buildings with period furnishings from Manitowoc County's early settlers. With two paid staff and over 100 registered volunteers, MCHS has been a member of AASLH since 1986 and began the StEPs program in 2015.
Can you describe how your organization is making its way through the program?
The staff, Board of Directors, and key volunteers worked through the program by tackling one section at a time. In addition to staff and volunteer work, early on each board of directors meeting featured a chapter where the case study was discussed and the performance indicators were reviewed.
What would you say is the most significant change or improvement within your organization as a result of taking part in StEPs?
Various types of volunteers may not fully understand what other key types of volunteers all do, but through the performance indicators in StEPs, all those involved with our museum's operation can have an idea of what each area needs and the work involved. We were able to work on a lot of internal organization (such as where files and documents are located). One of the most beneficial parts of participating in StEPs was gathering needed documents, policies, and compiling procedures in one location. We were also better able to engage our volunteers on best practices and have discussions about what our museum's role is and should be in the community. StEPs helps our volunteers, members, and greater community know that we are on the right track. We may be a small museum, but we are following best practices and our volunteers are incredibly proud of our success.
Which section of the workbook has been your favorite, and why?
The Interpretation section was a staff and volunteer favorite as it involved a core part of what our museum does and very much related to many of the areas our volunteers are actively a part of. The Historic Structures and Landscapes section was certainly the most challenging because of our open-air museum environment. Our team did a great job in talking through some of the issues. We hope to revisit the sections to use the case studies as talking points with our board and volunteers.
What advice do you have for organizations just starting in StEPs?
All too often small museums are consumed with daily operations and we don't take a step back to ensure we have the fundamentals in place. Being a part of StEPs helps you pay attention to what you are doing well (and celebrate small victories) and where you can focus attention for growth.