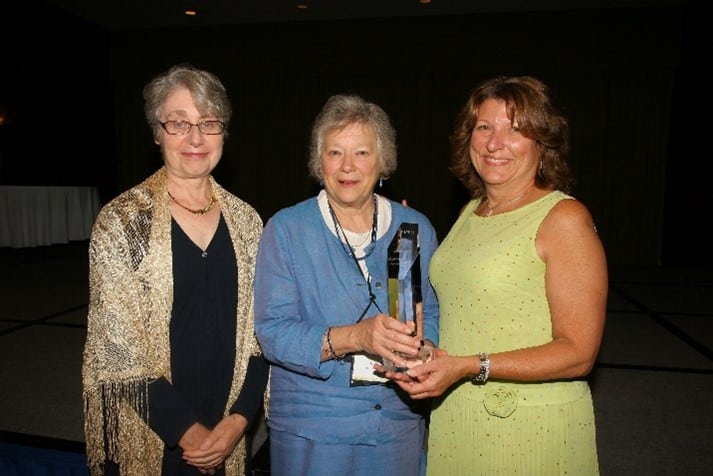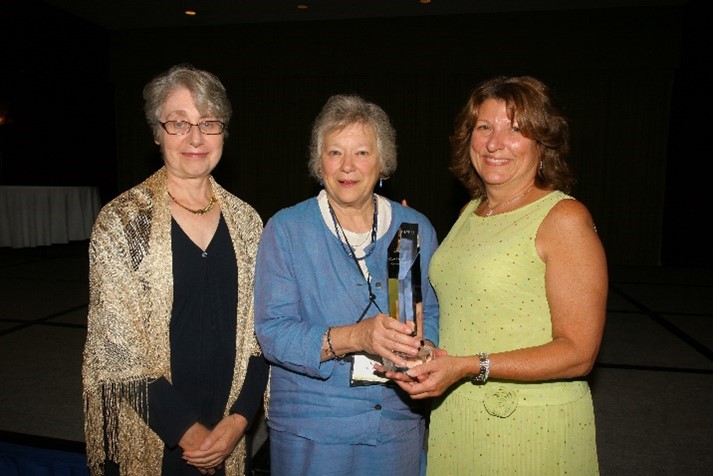 Carol Kammen (center) receiving the Award of Distinction in 2007 from AASLH President Terry Davis (right) and AASLH Chair of Council Barbara Franco (left).
By John Dichtl, AASLH President and CEO
It's late March and some timely, happy news has reached the American Association for State and Local History (AASLH). But first some background.
For 25 years, Carol Kammen authored one of the most popular parts of AASLH's History News magazine, the "On Doing Local History" column, which she launched in 1995. Full of memorable quotes and wise observations, Carol's columns urge us all to treat local history as the special subfield it is, one that overlaps with public history but that is distinctive and distinguished, humble and powerful. She connected the practice of local history with environmental history, political history, cultural history, and geography and anthropology, as well as with identity, civility, neighborliness, and community. She found common ground with genealogists, stamp collectors, historical fiction writers, journalists, teachers, volunteers, and government officials. And Carol frequently illuminated the processes of research and writing, with special attention to finding and using local source materials.
Her columns remain a rich repository of knowledge about the many ways in which local history is done and can strengthen its practitioners and the communities about which they write. "On Doing Local History" is so replete itself that it spilled over into multiple books: On Doing Local History, which is in its third edition; The Pursuit of Local History: Readings on Theory and Practice; and Zen and the Art of Local History (coedited with Bob Beatty). Carol also coedited (with Amy Wilson) the hefty Encyclopedia of Local History, also in its third edition. Members have free access to this resource in our Resource Center.
In 2007, AASLH recognized Carol's immense contributions to the field with its highest honor, the Award of Distinction.
Why this blog post now? Because the Tompkins County Legislature in New York State recently honored her by proclaiming the month of March 2023 as "Carol K. Kammen Women's History Month." As the text of the proclamation below illustrates, Carol's impact on her community, across the country, and throughout the local history and public history fields has been enormous.
Her many, many friends at AASLH congratulate and thank her!
PROCLAMATION
WHEREAS, after 23 years of extraordinary service, Carol Kammen has announced her resignation as the Historian of Tompkins County, and
WHEREAS, the National Women's History Alliance has designated the 2023 theme for Women's History Month as 'Celebrating Women Who Tell Our Stories', and
WHEREAS, Carol has devoted her adult life to researching, documenting, and communicating the rich history of Tompkins County and, especially, to bringing to rightful prominence the contributions of those often confined to the margins of history: women, people of color, indigenous people, immigrants, and those of lesser means and status, and
WHEREAS, much of what is known about the history of Tompkins County is the result of the research and writings of Carol as chronicled in editorials for the magazine History News, countless weekly columns in the Ithaca Journal, and over 20 books that are frequently used in classrooms throughout the U.S. as a lens on studying local history, and
WHEREAS, Carol has nurtured multi-generational interest in the field of local history as an instructor at Tompkins Cortland Community College, Wells College, and Cornell University, and
WHEREAS, as the Tompkins County Historian since 2000, Carol has guided the County Legislature on matters relating to our history, while also promoting communication and collaboration among local town and village historians through the creation of the Municipal Historians of Tompkins County, and
WHEREAS, with Carol as Chair and Tompkins County Legislator Mike Lane as co-chair, the County's Civil War Commission, honoring the War's sesquicentennial, and the County Bicentennial Commission, created by the Legislature commemorated the 200th anniversary of the County's founding, and
WHEREAS, while serving as Chair of the Tompkins County Historical Commission since its founding in 2018, Carol inspired, supported, and assisted in the publication of eight new booklets that have explored a variety of subjects; the installation of building plaques commemorating individuals, events, and places associated with the women's suffrage movement; and signage along Cayuga streets in the indigenous Gayogo̱hó꞉nǫɁ language and tribal colors, and
WHEREAS, Carol worked with a small committee, which, was instrumental in the creation of two privately-funded statues being created by renowned sculptor Meredith Bergman recognizing two women–local housing activist and INHS founding board member Lucy Brown and former Cornell professor and the nation's first woman cabinet secretary Frances Perkins–to be placed in 2024, and
WHEREAS, Carol's passion and gift for telling the story of those too often forgotten or marginalized was recently captured in her beautiful historical novel Lamentations, which tells the story of the first group of families crossing west to Oregon in 1842 from the perspective of the dozen women on the trip, and
WHEREAS, Carol's commitment to service has included participation on numerous non-profit agency boards, chairing the Community Celebrations Committee of the Strategic Tourism Planning Board, and serving as a member of the Town of Lansing Planning Board, and
WHEREAS, Carol's work has been widely recognized and respected, as evidenced in the many awards she has received including the Regional Council of Historical Agencies Award of Merit; the Mary Washington College Center for Historic Preservation award, the New York State Historian of the Year, and most recently; the Lehman Prize for Distinguished Service in New York History, and
WHEREAS, in the words of the President of the New York Academy of History, "For more than a generation, Carol has set the standard for local, county and state history in the United States", now therefore be it
RESOLVED, That the Tompkins County Legislature does hereby proclaim the month of March 2023, as 
CAROL K. KAMMEN WOMEN'S HISTORY MONTH
in Tompkins County,
RESOLVED, further, That Carol Kammen, who has spent her life educating us about our history, now becomes a part of it.
IN WITNESS WHEREOF, I, Shawna Black, have hereunto set my hand and caused to be affixed the great seal of Tompkins County, State of New York, on this the 7th day of March 2023.