This article is from the upcoming Spring 2021 issue of History News, AASLH's quarterly magazine. Members can access the full issue in the Resource Center later this month.
By Adrienne Fikes
When meeting someone new, civil rights grassroots organizer Ella Baker loved to ask, "Who are your people?" Thanks to the work public historians do to preserve and interpret state and local history, I can answer that question in more meaningful ways than I ever imagined. Family research uses our self-interest as a transformative catalyst to connect to history. Rediscovering our roots reveals a richer narrative about our identity and makes a tremendous case for honoring the dignity and humanity of Black lives. Our ancestors' lives and experiences are the foundation for how we understand ourselves, our community, and our politics. I believe that our best efforts to embed community care, healing, and wholeness into the world we live in must move through a framework of joy, genealogy, and justice.
How thoroughly you answer Ms. Ella Baker's question, and why so many of us—particularly in the African American community can't—illustrates how structural white supremacy is baked into the American experience. It's not unusual to find American families who don't discuss family history. A 2018 poll for Ancestry.com found that 33 percent of Americans are unable to name all four of their grandparents, and 21 percent are unable to name one of their great-grandparents. This is not by chance. The wealthier and whiter your ancestors were, the more likely that your lineage is well-documented and readily available to you. Systems create predictable results.
These are the names of my great-great-grandparents that I know: Jack Fike and Louisa Nettles Fike, Henderson Harris and Sophronia A. Leach Harris, Albert Henry Perry and Emma C. Reed Perry, Joseph Blanchard and Jane Manny Blanchard, Edward Howell and Joeanna Copeland Howell, and Robert Johnson and Sallie Jinkins Johnson.

Then there's Jack and Edie Jones who may or may not be my great-great-grandparents. In 1910, North Carolina census records show my grandmother was a four-year-old girl, living with an aunt and uncle. By 1920, the census taker listed Grandma Gladys as their daughter. I first met my grandmother when I was about four years old. When my family returned from living on the West Coast, we traveled to North Carolina to visit my widowed grandmother in the apartment where she was living after her house burned to the ground. I still don't know if the couple who raised Grandma Gladys were her biological parents, blood relations, or what we would consider to be her foster parents. Until I know who my grandmother's parents were, I won't know if Jack and Edie are really my great-great-grandparents or not.
If you're counting, that's twelve and two possible great-great-grandparents. I have two great-great grandparents whose names are a complete mystery to me. I'm determined to keep digging into the archives until I solve this puzzle and speak my ancestor's names.
"Your people" also includes your social network and community. I have roots in Chatham, Lenoir, and Perquimans County, North Carolina, as well as Nansemond County, and possibly Isle of Wight, Virginia. However, growing up, my people were in the planned suburban town of Columbia, Maryland. In 1977, my parents were among seven couples who, inspired by a Bible study series based on Alex Haley's Roots, started the Martin Luther King Jr. Community Church. As a child, I spent more time with my church family than my own extended family. Telling you who my people are shows how our lives are rooted and grounded to physical places and communities.
Systems Create Predictable Results
Far too many Black family researchers are told we can't document our family before the 1870 census, the first U.S. Census after Emancipation. In many ways, that is just not true. Public historians are caretakers of the records, not only to debunk the myth that all our ancestors were enslaved, but to identify many details of their lives previously unknown. Land records, labor contracts, pension records, newspapers, and other sources can help us overcome this so-called brick wall in our research. I've come to realize how clearly family research exposes the policies and events that act as racial and economic determinants for why so many of us don't already know our ancestor's names. I'm persuaded to believe that many of these brick walls were intentionally manufactured, often by historians of the past. We must bring the documents and narratives to light that lay out how our forefathers' lives were shaped differently depending on the institutional or structural opportunities and obstacles they faced.
So much of what my ancestors have endured was filled with racial violence and injustices they could not prevent and had to constantly defend themselves against. Today's news headlines demonstrate how little has changed since then. So much of what my ancestors lived through wasn't a result of personal choices, but institutional and systemic policies designed to diminish access to the material conditions that allow Black people to thrive. Unfortunately, the results of these policies are often treated like personal moral failings, instead of predictable, preventable outcomes born of unjust laws. The story of my ancestors Pearlie and Joseph illustrates this in a personally meaningful way.
The Plight of Pearlie and Joseph
Pearlie was only twenty-seven when she died of acute pellagra in 1930. She died just five days after her three-year-old son Joseph. Pearlie was survived by her husband and their sons, aged just two and six. The National Institutes of Health defines pellagra as a nutritional disorder caused by a deficiency in niacin, a B vitamin made and used by our bodies to turn food into energy. It helps keep our nervous system, digestive system, and skin healthy. These days, niacin or vitamin B-3 is often part of a daily multivitamin, but most people get enough niacin from food, including milk, meat, and cereal grains. Risk factors for pellagra include malnutrition and poverty.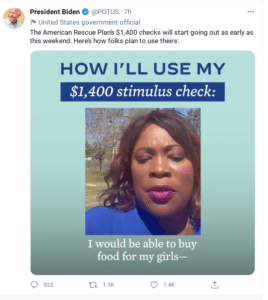 After a year of seeing food banks stretching for miles in many parts of the country, I saw the Biden administration share a video on Twitter on Friday, March 12, 2021. The video discussed how folks planned to use the $1,400 American Rescue Plan stimulus checks. It hurt my heart listening to a mother talk about using her stimulus to feed her children and help keep the lights on. Meeting Pearlie during my research painfully clarified how generation after generation, our systems create predictable yet preventable harm. Even though my research doesn't definitively show that poverty played a role in Joseph and Pearlie's deaths, Panel 11 from Jacob Lawrence's Migration Series is more meaningful to me now that I can name my ancestors who did not survive the Great Depression. Little Joseph was my uncle.
What about your ancestors? What impact did the Great Migration or the Great Depression have on your family? What policies would have made your ancestors' lives safer and more humane?
Imagine what life would look like across the United States if we put as much effort into designing systems where people thrive as we do to uphold policies that marginalize, harm, and even kill those who aren't fortunate enough to become exceptions to the rule. Why should any of us want to be exceptions, when together, we can use this Joy, Genealogy, and Justice Framework to change the systems and turn the exceptions into the norm?

A Framework for Joy, Genealogy, and Justice
I developed this Joy, Genealogy, and Justice Framework out of the coaching and consulting work I do for clients and in my community advocacy. There are five components to the framework: personal growth, family history, civic engagement, racial justice, and legacy building. I believe we can increase the number of people who honor the dignity and humanity of Black lives in our communities. I believe people productively engage in these components as we recognize and are equipped to combat the grisly racial terrorism that structural white nationalist violence is inflicting on our entire country.
We often focus on voting rights and criticizing our elected officials, but few if any initiatives work to develop people themselves, not as potential candidates for office, but as informed and engaged constituents. I want to help people command this system in a more vocal, strategic, and collective way. I'm inviting you to be a bit more intentional about how you approach these components in the work that you do. It's time to embrace a vision of Black liberation and social justice within the local and state history community. We need all hands on deck. I invite you to join me in taking these three bold actions to honor the dignity and humanity of Black lives, and personally contribute to the collective effort to heal our land once and for all.
Bold Action 1: Allow More Unspeakable Joy to Flow Through Your Life
As a coach, I help people develop the clarity, decisiveness, and joy they need to do the divine work they've been called to do. Unspeakable joy is our birthright. It is buoyant. You see this joy regularly bubbling up in tiny babies and children. Joy rises naturally in all of us, unless and until a continuous effort is made to drag down, diminish, or destroy it. Systems create predictable results.
The first bold action I invite you to take is to allow more unspeakable joy to flow through your daily life, as if it held the same importance as the oxygen you breathe. Just allow it to flow, in and out, in and out. Joy is air in your tires and fuel in your tank. It helps you get where you're going with greater ease. Challenge yourself to consider how much joy you're allowed to experience on an ordinary day. If there's something hindering the natural flow of your unspeakable joy, do something about it as urgently as you would if you were having trouble breathing.
Bold Action 2: Name Your Sixteen Great-Great-Grandparents
We've talked about family history and genealogy. Since you are a member of AASLH, you already believe in the value of considering the connections between the past, present, and the future. Given your expertise, you are in a marvelous position to encourage family, friends, and the community to begin to make these connections through their own family history.
I started researching the names of my great-great-grandparents because of a random tweet. On the morning after the 2016 presidential election, I saw a viral tweet allegedly showing the KKK marching on a North Carolina highway overpass. Days later, I stumbled upon a fact-checking article in the newspaper mentioning the 1870 battle where the North Carolina state militia chased Klansmen away from the Chatham County courthouse in Pittsboro. Although I had never heard of Chatham County, a few months earlier, I had been asking questions about the "out in the country" where our family comes from.
A simple search on FamilySearch.org quickly answered my question. The documents were right there, and I was hooked by the insights. I started wondering: what else is out there about my ancestors?
I learned my great-great-grandfather Jack was listed as property, valued at $383 on an 1841 estate report to "divide the lot of Negros." More documentation revealed that Jack was fourteen years old at that time. Reading this handwritten horror story, so matter-of-factly signed by the appointed commission, sent me back to bed crying and away from the research for a while.
I wasn't prepared to see that my ancestor's life was only valued for $383 within the system that enslaved him. But there was more to learn. I found Jack counted by a hashmark, but no name, on the 1860 slave schedule, still enslaved to the same person from the estate report. But by 1870, Jack owned a modest personal property estate valued at $110 and was Louisa's husband and the father of six children. Jack Fike was appointed to the Chatham County District 18 Colored School Committee on September 15, 1887. And there he was again, in 1888, listed among the "Black Voters" in the township voter canvass book.
There are no words to describe the deep pride and unspeakable joy I felt, even while coming face-to-face with the access and outcomes that have disrupted my family's health and wealth for generations, as I identified more of my great-great-grandparents and their stories.
I created the #16Greats Challenge specifically to encourage Generation X and Millennials to learn the names of our sixteen great-great-grandparents. The second bold action is for you to take and share the #16Greats challenge with your family, friends, and community. You can learn more about this challenge at 16Greats.com. My family history TEDx talk, as well as my interview sharing my family research experience with the National Museum of African American History and Culture's Robert F. Smith Explore Your Family History Center are posted on the site as well.
Legacy, another component of this framework, connects our past and present to the future. While you're thinking about what you want to know about your ancestors, consider what you want your descendants to know about you. Have fun passing down your family stories of joy and be mindful to share those not so joyful moments as well.
Bold Action 3: Join the Principled Struggle for Black Liberation
As I watched the events of January 6 unfold this year, I had to wonder how more comprehensive civic engagement education might have made a difference. The anger that was on display that afternoon is nothing new. When Benjamin Thomas was lynched on the corner of North Fairfax and King Street in the heart of Alexandria, Virginia, in 1899, my great-grandparents were the same age as he was. This racial terror lynching took place just days before they were married. I want Americans to make personal connections, not just to the anti-Blackness this terrorism continues to maintain, but also to the continuous fight for Black liberation that began before the first humans were trafficked in the transatlantic slave trade.
Black liberation means honoring the courage of the twelve African American men who went down to Alexandria's jail in 1899 to advocate for equal justice and defend Thomas's life. James Turley, Edward Gibson, Alfred Mason, Harry MacDonald, Albert Green, Allen Carter, Robert Buckner, John Haskins, James Alexander, Edward Payne, John Nelson, and William Washington were sentenced to thirty days on the chain gang for being brave enough to demand due process and peace for Thomas.
What ripple effect did this grave injustice have on these men's family legacies, and Alexandria's Black community? What can you do to highlight the evolutionary line between narratives of these historic atrocities, and the conditions Black people experience in America today? Because this racial terrorism was so widespread in the United States, your county and state very likely to have similar stories of courageous African Americans.
I co-founded Racial Justice Alexandria as a multi-generational, multi-racial, abolitionist collective of individuals, groups, and organizations taking action within the City of Alexandria, across Virginia, and the United States to align with the Movement for Black Lives, a comprehensive policy platform for Black liberation. The six pillars of this policy platform include:
End the war on Black people:

We demand an end to the criminalization, incarceration, and killing of our people. We call for not just individual accountability of officers after a murder, but entire police departments.

Reparations:

We demand reparations for past and continuing harms. The government, responsible corporations, and other institutions that have profited from the harm they have inflicted on Black people—from colonialism to slavery through food and housing redlining, mass incarceration, and surveillance—must repair the harm done.

Invest and divest:

We demand investments in the education, health, and safety of Black people, instead of investments in the criminalizing, caging, and harming of Black people. We want investments in Black communities, determined by Black communities, and divestment from exploitative forces including prisons, fossil fuels, police, surveillance, and exploitative corporations.

Economic justice:

We demand economic justice for all and a reconstruction of the economy to ensure Black communities have collective ownership, not merely access.

Community control:

We demand a world where those most impacted in our communities control the laws, institutions, and policies that are meant to serve us—from our schools to our local budgets, economies, police departments, and our land—while recognizing that the rights and histories of our Indigenous family must also be respected.

Political power:

We demand independent Black political power and Black self-determination in all areas of society. We envision a remaking of the current U.S. political system in order to create a real democracy where Black people and all marginalized people can effectively exercise full political power.
This is my third bold action for you. Join the principled struggle for Black liberation and racial justice individually, as an organization, and in your community. Directly contribute to this community building and advocacy work. The full details of this Movement for Black Lives policy platform are online at M4BL.org/policy.
There isn't a town in America that is finished with this work. Find the Black-led abolitionist groups and organizations doing the work of Black liberation and racial justice near you. Share the empowering, Black-centered narratives of resistance that are not being discussed in your communities. Who are your people and how will you bring them to this work?
We know a new world is possible. What if we were determined to see the end of the public policies that uphold this harm in our lifetimes? It's time to use joy, genealogy, and justice to make it so.
---
Adrienne Fikes M.Ed., PCC, is a seventh-generation Virginian, executive coach, speaker, organizational development consultant, and coach trainer. Adrienne developed the Joy, Genealogy, and Justice Framework for Black Liberation, the #16Greats Challenge TEDx talk, and is the author of Finding Your #UnspeakableJOY: Right There Where You Are. She is a co-founder of the Racial Justice Alexandria Collective and a member of the James Dent Walker D.C. Chapter of the Afro American Historical and Genealogical Society. Contact Adrienne at [email protected].
This article is from the upcoming Spring 2021 issue of History News, AASLH's quarterly magazine. Members can access the full issue in the Resource Center later this month.