Back in 2016, AASLH was searching for new office space. Our rented office on Church Street where we had been for decades was no longer the best fit for our needs, and as a nondescript and fairly modern office building, it wasn't helping us live our mission of supporting historic places. Enter St. Bernard Convent and Academy. Located in a historic neighborhood called Hillsboro Village and surrounded by mid-century bungalows, this 1905 Catholic school turned office space is our home sweet home for history.
The story of SBA and the Sisters of Mercy is a fascinating window into Nashville's educational and women's history and a preservation success story for our city. This area was involved in the 1864 Battle of Nashville (the park in front has a Tennessee Historical Commission marker detailing the location of the outer Federal defenses), and the first Sisters of Mercy came to Nashville just after the Civil War and opened their first school one day after arriving.  The order was founded in 1831 in Dublin with a mission of education and service for women and children. They moved to several locations around town before finding their home in Hillsboro in 1905. This restrained example of High Victorian Gothic architecture served as a home for the nuns, a girls' school, a special education school, and a Montessori school until it closed in 1989. It was sold in 2015 to its largest tenant, and preservationists all over town breathed a sigh of relief that this unique structure would be preserved. Today the building houses offices for a wide range of professions with the large chapel still holding religious services.
Having served as a school as well as a home for more than eighty years, St. Bernard has seen its share of renovation and remodeling, but it still retains many original elements and even later additions that help tell the story of its long history. I'm not an architectural historian, but I love discovering original fixtures in the hallways and trying to figure out when certain features were added.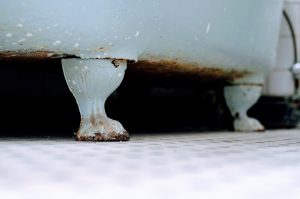 Were the ornate radiators part of the original design? What about the sea green clawfoot bathtubs tucked away in the women's restroom upstairs? Some of the fourth floor office doors have stained glass transom windows — were these bedrooms for the sisters? It's hard to know for sure, but one thing is for certain: we love our building and trying to date all the interesting details. It's a tremendous privilege to get to work in the midst of history, and our building inspires us every day.
We are proud to participate in the Heart Bomb 2018 initiative from the National Trust for Historic Preservation this Valentine's Day. Historic buildings all over the country are getting some love with handmade valentines and the #IHeartSavingPlaces hashtag. Every town has historic gems and we hope you're inspired to share your preservation stories as well.