So, you've planned th
e perfect program, found an enthusiastic audience and now you're looking for just the right presenter.  The big day arrives and when the presenter concludes he humbly requests his honorarium.  You, however, most definitely recall a phone meeting in which the speaker specifically agreed to donate his services.  How could things have gone so wrong?  What steps would have avoided such an awkward and embarrassing situation?
A thorough contract that lays out responsibilities for both you and your presenter would do the trick!  Even for seemingly small projects, a signed contract is essential and absolutely worth the investment!  There are many things to consider as you develop and you want to be mindful of every contingency so that you're covered should questions arise.  Here are some suggestions for creating a contact that works.
1.  Be specific.  Before you even consider writing a contract consider the following:
What outcome(s) will be delivered as a result of the contract?
How will the presentation be delivered (a PowerPoint lecture, hands-on workshop, webinar, camp activity)?
What setup, supplies and equipment are required for the presentation and which party is responsible for providing it?
When do you want the job/performance/lecture, etc. to be completed?
How much—if anything—will the presenter be paid?
Will payment be delivered in installments or upon completion of the presentation?
What other forms of compensation will the presenter receive (travel, hotel, accommodations, publicity, a meal, a travel stipend)?
Do you have written permission to photograph or record the presentation?
What happens if the presenter cancels or fails to meet expectations?
2.  Keep it simple!  Try to keep your contract as simple as possible (while still covering the things you want to address).  There are plenty of sample contracts online, but don't feel the need to include language that does not apply to your organization or the scope of the project.  For most projects, a 1-2 page contract will suffice.
3.  Seek legal advice.  It's always best to have an attorney review your contract before signing and sending it.  Although the legalities may be "all Greek to you", it's best to have counsel beforehand.  It may be admittedly time consuming or costly, but this is not a step you should overlook.
4.  Be flexible.  Once you have designed a contract template that has been reviewed by your fellow staff members and legal counsel, be prepared to tweak it.  Every contract is a negotiation, so it will need to be altered to fit the specific needs of each new presentation.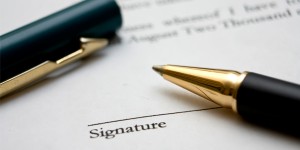 5.  Get it signed and on file beforehand.  A contract is worthless if it isn't in place before the big day.  Yes, we're all busy and sometimes it seems easiest to go ahead with a verbal agreement, but eventually you'll get burned.  A negotiated, signed contract will save you and your presenter from confusion later.