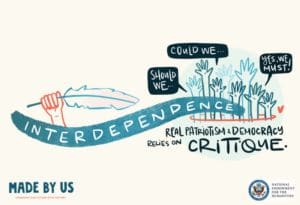 The American Association for State and Local History is a partner of Made By Us, an initiative of history and civics organizations to inspire, inform, and empower Millennials and Gen Z as they shape our country's future. In this post, Cameron Katz, community engagement manager, explains how history organizations can get involved in the Civic Season, a new tradition created by Made By Us.
By Cameron Katz, Community Engagement Manager, Made By Us
As new voters, taxpayers, activists, and consumers, young people have an extraordinary influence on our democracy, and they need support from history organizations to make an informed impact. As the Center for Information and Research on Civic Learning and Engagement (CIRCLE) at Tufts University has found, young people have the potential to determine this year's congressional elections. But civic engagement extends beyond voting – it can include everything from helping a neighbor to recycling to advocating for a cause – and young people are engaging in these other ways too.
So how can local and state history organizations support young people who are already politically active? What can museums and historic sites do to encourage more young people to get involved?
It's simple: let's join forces on a new tradition that makes use of our strengths to meet their needs. And it can start this summer, with Civic Season.
While Gen-Z and Millennials have already leveraged social media to discuss important cultural, political, economic, and societal issues, history organizations can provide the essential context behind today's hot topics. Most importantly, a shared moment, co-created by young people and museums, can build trust and encourage collaboration – which is exactly what we need to preserve our democracy.
Enter Civic Season, a new tradition between Juneteenth and July 4th that invites 18-30 year olds to celebrate what they stand for. Hosted by Made By Us and cultural institutions across the country, Civic Season aggregates hundreds of credible, nonpartisan programs and resources that can help people explore, learn, and act. It's a way for young people to connect with others who share their passions and find joy in the work they're doing.
Civic Season makes it easy for history organizations to join in:
By accumulating programs and resources from organizations across the country, the Civic Season starts a conversation between institutions and 18-30 year olds. Organizations can learn how to serve young people, and young people can appreciate history institutions as tools to navigate the world.
Furthermore, museums can use their authority to help young people share their ideas. Museums are the most trusted sources for historical information among Americans, so history institutions can use this legitimacy to amplify the voices of young people and demonstrate that America's youth is passionate and informed.
Civic Season is also the perfect channel to lead into election season in the fall. As 18-30 year olds become more influential in our elections, Civic Season can ensure that young voters know which issues are important to them, understand the history behind those issues, and have the confidence to speak their minds.
Whether a young person is just beginning their civic journey or is already involved, Civic Season can provide a platform for anyone to share what they stand for with our country's history organizations and our nation. Together, young people and our institutions can forge a path forward towards a country by and for all.
For more information on participating in Civic Season and submitting your programs, visit thecivicseason.com.