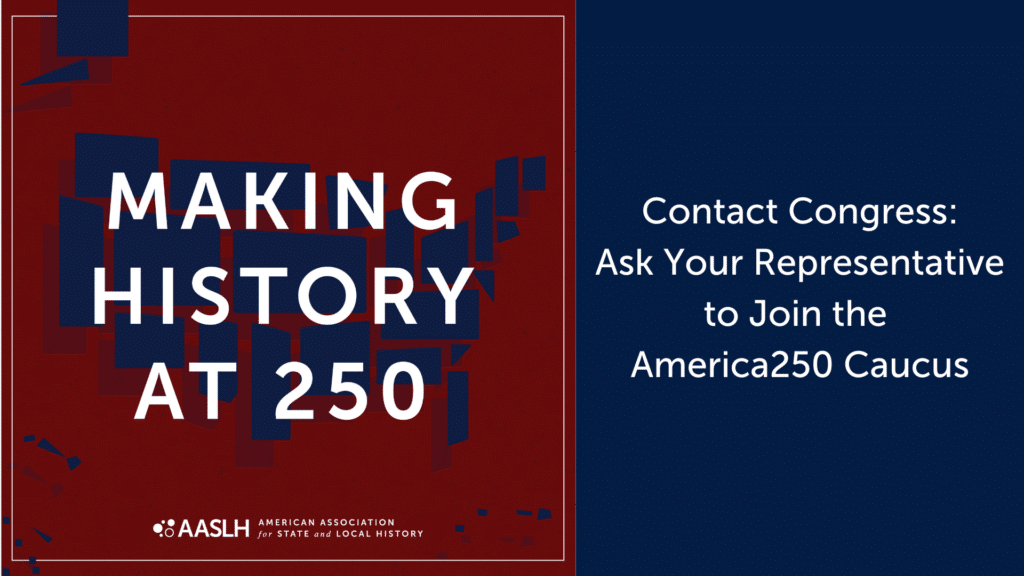 Members of Congress are forming a Congressional America250 Caucus to work together to commemorate and support the upcoming 250th anniversary of the United States in 2026. We need your help to encourage members of Congress to join this important caucus.
With the 250th just three years away, your efforts are urgently needed. We ask you to contact the members of your Congressional delegation and encourage them to join and support the activities of the America250 Caucus in the United States Congress. We have provided a draft email for your consideration below in the event it is helpful.
As a member of the America250 Caucus, lawmakers will work together to commemorate this significant milestone in our nation's history and promote national unity and civic engagement. The Caucus will provide a forum for members of Congress to collaborate on ways to engage their constituents, support local events and activities, support the work of history museums and other history organizations, and highlight the importance of our shared history.
Please take a moment to contact your Congressional delegation and ask them to join the America250 Caucus. Thank you for your support in helping to commemorate America's Semiquincentennial.
Sample Email
Dear Representative [Insert Name],
I hope you're doing well. On behalf of [Insert Organization Name], I respectfully request that Representative [Insert Name] join the bipartisan America250 Caucus, chaired by Representative Robert Aderholt (R-AL) and Representative Bonnie Watson Coleman (D-NJ). With the 250th anniversary of our nation's founding rapidly approaching, we want to ensure that we do not miss out on the opportunity for Americans to learn and reflect on the themes and ideals that unite all of us, including liberty, freedom, and civic engagement. Please contact Laura Titus ([email protected]) with Representative Robert Aderholt's office or Brad Korten ([email protected]) with Representative Watson Coleman's office to join the caucus.
Thank you for your consideration.
[Your Name]