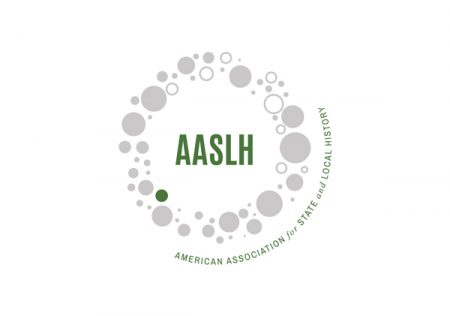 AASLH is excited to introduce a new logo that symbolizes a forward focus while remaining rooted in both the past and in a sense of place. Our new logo is based on our familiar "tree of life" graphic that we first adopted in the 1940s.
Instead of a single tree, this new circular logo represents a grove of trees as seen from above. AASLH is symbolically situated in the midst of a diverse history community. The various sizes, shadings, and positions of trees in this grove symbolize an inclusive and vibrant forest of differences that make the whole stronger than the sum of the parts. Finally, this new logo reminds us all to see the larger picture while also attending to the finer details.
Our new logo is a thoughtful visual representation of the promise our new strategic plan offers. The plan, approved in 2016, articulates AASLH's dedication to four primary goals: promote the relevance of history, build diversity and inclusion, strengthen organizational sustainability and transparency, and act with a creative and experimental spirit.
[vc_empty_space]
[vc_empty_space]