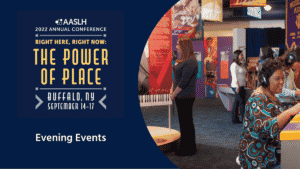 The American Association for State and Local History's Annual Conference is known for unmatched evening events and this year is no exception.
In keeping with this year's theme of "Right Here, Right Now: The Power of Place," this year's events will take you to some of Buffalo's most unique locations and engage you with the city's history.
Keep in mind that these events are not included with registration and that preregistration is required. See the preliminary program and registration form for more information.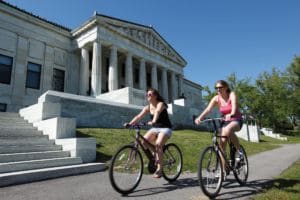 The Buffalo History Museum. Photo by KC Kratt.
Welcome to the City of Lights
Wednesday, September 14, 6:30-9:30 p.m.
Catch up with colleagues and learn about our host city. The Buffalo History Museum has been western New York's premier historical organization since 1862 located in the only building remaining from the 1901 Pan American Exposition. They are the keepers of the authentic stories that make their community unique. Their collections, exhibits, and programs tell the stories of the people, events, and movements that demonstrate western New York's essential place in shaping American history. Enjoy Buffalo-themed hors d'oeuvres, music, drinks, and networking.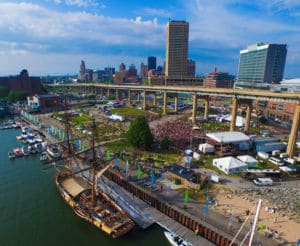 Canalside. Photo by Buffalo Aerial Pictures.
Evening at Canalside
Thursday, September 15, 6:30-9:30 p.m.
Canalside is at the heart of downtown Buffalo's waterfront revitalization. Located at the 1825 Western Terminus of the Erie Canal, the site's storied history is just as exciting as its future! Walk along the 200-year-old canal terminus and historically aligned canals and towpaths. Stroll Buffalo's Central Wharf, Boardwalk, and Great Lawn. Take in views of the Buffalo River, Buffalo Lighthouse, historic grain elevators, and even catch a glimpse of Canada! Roller skate on the recreated Erie Canal, and visit the Canalside Longshed and the Buffalo Heritage Carousel. Heavy hors d'oeuvres, drinks, and networking is on the menu.
AASLH Leadership in History Awards Reception and Presentation
Friday, September 16, 4:30-6 p.m.
Congratulate the 2022 AASLH Award winners at a reception in their honor. Awards will be presented and appetizers and drinks will be served.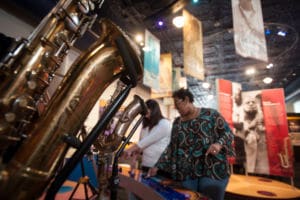 The Colored Musicians Clubs and Museum. Photo by Onion Studio.
Michigan Street Party
Friday, September 16, 6:30-9:30 p.m.
From the Michigan Street Baptist Church, a stop along the Underground Railroad, to legendary jazz history at the Colored Musicians Club and Museum, a National Historic Site, Buffalo's African American heritage runs deep. The heart of that history lives on Michigan Street. Join colleagues for music, food, and meet the people who help preserve this important part of Buffalo history. Historic sites on the street include Michigan Street Baptist Church, the Nash House Museum, the Freedom Wall, and Colored Musicians Club (access may be limited).
We hope you join us for these exciting events!