Online Gathering, Interactive Sessions, and Virtual Happy Hours
2021 AASLH Online Conference Held October 12-15
The 2021 Online Conference continued to be an inspirational and informative experience. The online meeting focused on sessions that allowed speakers to share their stories, strategies, and expertise while interacting with participants through the chat function and some breakout rooms. The flexibility of the online format also allowed the conference to be more reflective of crucial topics that emerged for the field in the months and weeks before the virtual meeting. Happy hours and discussion groups will also made more use of the Zoom break out rooms encouraging conversation between participants.
Doing History/Doing Justice
What do we owe to one another? This question sits at the heart of the concept of justice, a notion so enduring that it is called forth in centuries-old founding documents as well as in current headlines and protest signs. In this extraordinary era, marked by profound reckoning with our complicated past, history institutions are uniquely positioned to engage in doing justice—to public understandings of our past, and as active agents in the world today.
The work of history institutions is justice work. Historic sites, museums, and archives help bring complexity and nuance to questions of right and wrong. Our work helps establish relevant facts, provides access to evidence, and weigh competing claims for rights, freedoms, access, ownership, and our duty to one another. We raise a range of perspectives and challenge ourselves and our audiences to evaluate and reconcile conflicting views. Far beyond matters of laws and courts alone, the call to uphold justice asks us to think about the meanings of belonging, fairness, responsibility, and equality; to acknowledge and redress historical wrongs and dismantle harmful myths; and to consider the impact of our actions today.
The theme of justice resonates throughout Arkansas' history. At the 2021 Annual Meeting, centered in Little Rock, we can witness the interplay between judicial procedure and social justice at the steps of Central High School, where the Little Rock Nine fought for their right to equal education. We can explore restorative justice through Rowher Japanese Relocation Center, where World War II detainees, after a decades-long campaign, secured reparations and commemoration. We can visit the Clinton Presidential Library to study the Good Friday Peace Accords, examining the processes of history, accountability, and reconciliation that brought an end to long, violent conflict in Northern Ireland.
Doing Justice TO, AS, and IN History
This meeting will take an active orientation – how do history organizations and practitioners DO justice? We will look at how we do our work and how people are impacted by our work, unpacking the notion of "justice" in all its dimensions. The program committee seeks proposals that follow a threepart framework: doing justice TO history, AS history, and IN history.
Doing Justice TO history can mean revealing formerly hidden stories, creating new access to historical resources, reframing narratives, or recentering overlooked historical players. We are inspired by examples like:
Jamestown Settlement, where the recent exhibit Tenacity foregrounded the stories of individual women whose influences on the colony's development had never been told
Revolutionary Spaces, the merger of Boston's Old South Meeting House and Old State House, combining resources to do justice to stories of our national origins
The Chronicle of African Americans in the Horse Industry, an online archive documenting African American work in equine trades, from the International Museum of the Horse
Doing Justice AS history means taking on the concept of justice, through explorations of law, the courts, fights for equality and civil rights, and social justice. Examples include:
History Colorado, where the exhibit Women/Work/Justice explores "the intersection of human, civil, and economic rights" for women in the workforce, from advocating for safety to organizing for better wages and working conditions
The Bay County Museum in Florida, where a new exhibit spotlights the landmark 1963 Supreme Court case Gideon v. Wainwright, guaranteeing the right to legal representation without charge
The Wisconsin Historical Society's "Social Action" collection, archiving material related to movements for free speech, students' rights, GI rights and resistance, and more
Doing Justice IN history means recognizing our organizations as historical actors in their own right, playing roles in unfolding events. As Ken Yellis and Avi Decter write on the AASLH Blog, "If we have something to say, we should say it. If there is something we can do or give, we must do and give. If there's a way to get involved, we should embrace it." We will explore how museums are responding to the present moment, not just externally, but internally as well: What does justice look like within history organizations? We'll explore strategies to build internal racial equity, consider stakeholders in planning and content development, and rethink fundraising strategies.
Greensboro History Museum's "History Happening Now" initiative, inviting residents to record responses to the pandemic, racial justice uprisings, and other current events
The History Museum of Mobile, which accepted a statue of Confederate Navy Admiral Raphael Semmes after it became a target of protests and was removed from a city park
The Chicago History Museum, where student activists are partnering with museum staff to increase the representation of LatinX stories in collections and exhibitions
"What time is it on the clock of the world?"
Activist Grace Lee Boggs (1915-2015) often opened conversations with this question. By asking it, we situate ourselves in history, placing our present into a longer context of cycles of change and continuity. In recent years of social tension, strain, and unrest, the "clock of our world" has been ringing with a wake-up call that asks all people to understand and engage with the histories that have so largely defined our present moment. For history organizations, it is time to look thoughtfully at ourselves and our roles in these processes. Together, in our 2021 meeting, we have the opportunity to consider how our work intersects with justice, and what we as museums owe – to the past, to our field, and most importantly, to our communities.
Michelle Moon
2021 AASLH Program Chair
Registration
Full Access: $55 AASLH Members / $75 Nonmembers
Includes live sessions and pre-recorded sessions, discussion groups, plenaries and keynote, brown bag lunches, and happy hours
Full Access Student Rate: $25 AASLH Members / $45 Nonmembers. Email [email protected] for discount code.
Includes live sessions and pre-recorded sessions, discussion groups, plenaries and keynote, brown bag lunches, and happy hours
Basic Access: Free
Includes plenaries, keynote, and happy hours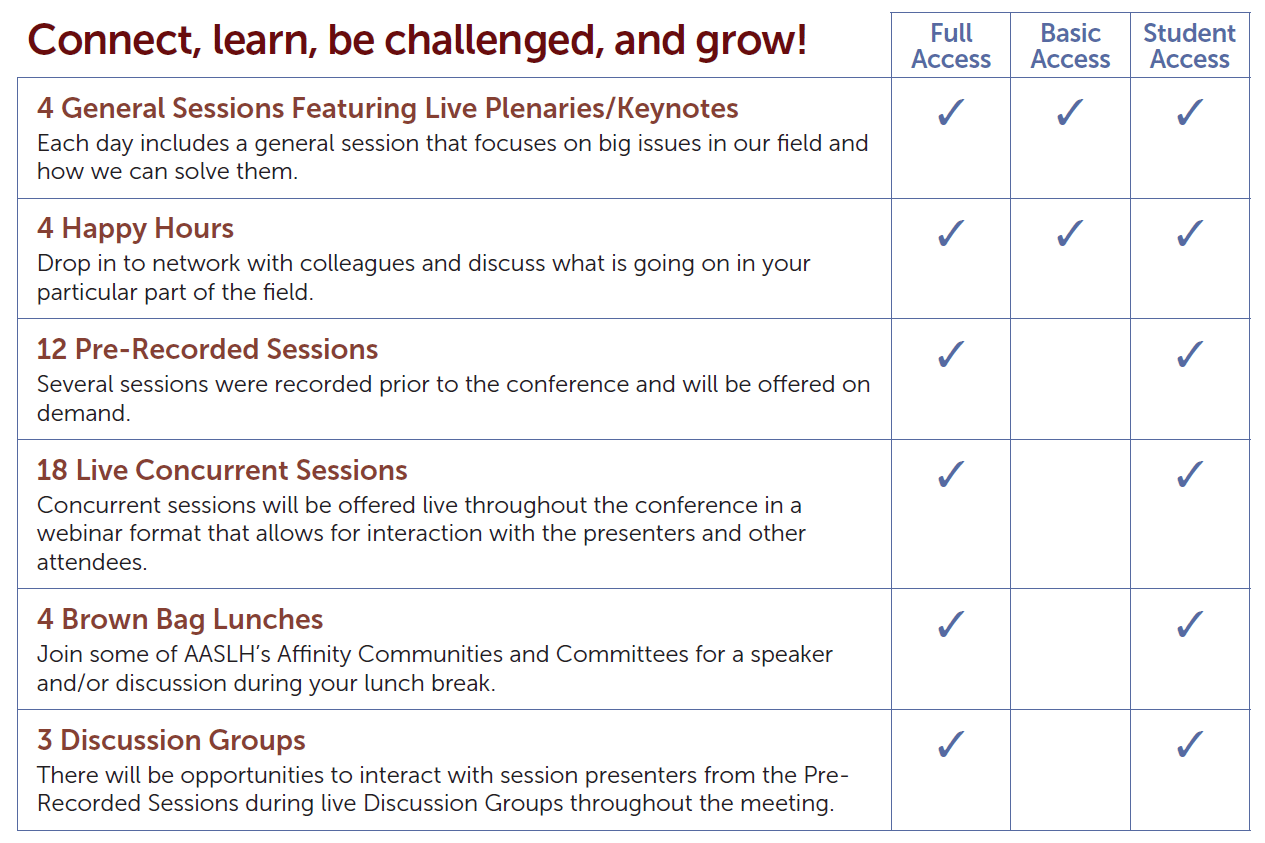 Program Guide
Download our Program Guide and get an overview of all things 2021 AASLH Online Conference. Review the schedule and make note of what you would like to attend live or watch later. All General and Concurrent sessions will be recorded, as well as Brown Bag Lunches and Discussion Groups. The recordings will be made available in the conference portal after the conference ends and all General and Concurrent sessions will be available later in the AASLH Resource Center.
Schedule Updates
CANCELLATIONS: The following sessions were cancelled by the panelists and have been removed from the schedule.
Tuesday, October 12
In Dialogue: Contextualizing Women's History and Social Justice Narratives with Historical Objects
4-5:15 pm EDT
The National Portrait Gallery's In Dialogue: Objects and Social Justice program raises civic awareness through conversations about art, history, and material culture. Inherently collaborative by nature, NPG partners with colleagues from across the field to discuss how historical objects from their respective collections speak to today's social justice issues.
Chair: Ashleigh D. Coren, Smithsonian Institute National Portrait Gallery, Washington, DC; Lori Ann Terjesen, Ph.D., National Women's History Museum, Alexandria, VA
Wednesday, October 13
Do You See What I See? Public Art & Symbols of Social (In)Justice
4-5:15 pm EDT
Attendees will learn how to research historical context, develop critical thinking, and brainstorm creative solutions for dealing with problematic public monuments. Takeaways include teaching others how to look at a problem and come up with solutions, understanding symbolism in monuments, balancing controversies, and how to consider reprioritizing your artwork /public sculpture inventory for public engagement.
Chair: Dorothy Dougherty, National Archives at New York City, New York, NY; David Anthone, Artist and Historic Preservationist, New York NY; Duane Blue Spruce, Smithsonian, National Museum of the American Indian, New York, NY; Kendal Henry, Director of the NYC Department of Cultural Affairs' Percent for Art Program, New York, NY
Friday, October 15
Dibaajimowaan: Anishinaabemowin Word for Narratives/Stories
2-3:15 pm EDT
Toronto History Museums are embarking on a massive cultural shift by embracing diverse narratives and voices that capture our rich diversity in Canada through co-creation, partnerships, and shared authority. In the spirit of reciprocity, we will be engaging in an idea studio.
Chair: Chris (Christos) Theofilogiannakos, Ph.D., Toronto History Museums, City of Toronto, Ontario, Canada; Pailagi Jaimin Pandya, City of Toronto, Ontario, Canada; Audrey Rochette, City of Toronto, Ontario, Canada
NEW SESSION:
Tuesday, October 12
Book Talk: Interpreting the Legacy of Women's Suffrage
4-5:15 pm EDT
Interpreting the Legacy of Women's Suffrage is an invaluable guide for those who wish to expand the women's suffrage narrative to include the full breadth of the movement, including the pervasive bias and racism. Practical examples and resources help readers work within their community to identify voices missing from their local narrative. Page Harrington, former executive director of the National Woman's Party at the Belmont-Paul Women's Equality National Monument will share resources from her new AASLH book Interpreting the Legacy of Women's Suffrage at Museums and Historic Sites.
Page Harrington, Girl Scouts of the USA
Wednesday, October 13
A Chat with The Inclusive Historian's Handbook Team
6-7 pm EDT
Interested in contributing an entry to The Inclusive Historian's Handbook? Or, simply learning more about this open digital resource co-sponsored by AASLH and the National Council on Public History? Drop in to chat with the Handbook's editors and advisory committee members. They would love to hear your ideas for new content that centers equity, inclusion, diversity, and service.
Friday, October 15
A History of Native American Activism
2-3:15 pm EDT
From the very beginning the United States has dealt with Native Americans with a series of policies and treaties. Most of the policies were aimed at assimilation. For many years Native Americans were forced to live by standards set by the United States. But with the formation of the American Indian Movement, they started to fight back. Learn about the beginnings of the American Indian Movement and the organized protests that they led including the Occupation of Alcatraz and Wounded Knee. And also learn how the activism of the 1960's lives on today and how we are dealing with issues in the Native community today.
Heather Bruegl, M.A., Forge Project
Making History at 250: Planning for the Semiquincentennial
2-3:15 pm EDT
Has your organization begun preparing for the U.S. 250th anniversary? This session will feature a discussion with national, state, and local leaders about AASLH's Making History at 250 "field guide." We will discuss the status of planning, the vision for the commemoration, and AASLH's guiding themes for 250th-related programs. We invite you to come learn more about what is planned for 2026 and how we can work together to make this anniversary as inclusive and relevant as possible.
Aimee Newell, Museum of the American Revolution; Steve Murray, Alabama Department of Archives History; Jennifer Ortiz, Utah Division of State History
Conference Portal
Access to the online conference portal will open September 27. If you are currently registered for the conference you will receive an email with instructions to access the portal on that date. If you register for the conference on or after September 27, please allow for 24 hours before your access to the online conference portal is active.
Plenaries and Keynote
The 2021 AASLH Online Conference will be held on October 12-15. Each day will feature a plenary session or keynote related to the theme Doing History/Doing Justice. These sessions are included in the free registration option for the conference. The full conference registration fee includes these sessions as well as twenty-four live sessions and twelve pre-recorded sessions for $55 for members/$75 for nonmembers.
Each plenary session will focus on a different thread within the idea of the conference theme.
Tuesday, October 12
Public History for Traumatic Times
12-1:30 pm
Across all disciplines, we are becoming more aware that trauma exerts a profound influence on learning and growth. This introductory session will explore the ethics, theory, and practice of trauma, and helping as it relates to public history. We'll build understanding of racialized trauma, historical trauma, and #2020 trauma, consider the needs of both visitors and staff, and identify how, as audience0focused organizations, we can help heal instead of doing more harm.
Chair: Rainey Tisdale, Independent Museum Professional, Boston, MA; Richard Josey, Collective Journeys, Newport News, VA; Izetta Autumn Mobley, Ph.D., Reginald Lewis Museum of Maryland African American History & Culture, Baltimore, MD
Wednesday, October 13
Doing History; Doing Justice; Doing Democracy
12-1:30 pm
As history organizations work to be relevant, effective civic engagement is essential. As we do this work more deliberately, it makes sense to understand the landscape and to collaborate with others supporting the democratic project in our own country and abroad. This session will highlight current partnerships and prompt participants to identify their own strategies for engagement.
Chair: Sarah Jencks, Ford's Theatre Society, Washington, DC; Kayla DeMonte, Citizen University, Seattle, WA; Jamie Engel, National Conference on Citizenship, Washington, DC; Seth Henderson, The Aspen Institute; Caroline Klibanoff, Made By Us; Ereshnee Naidu-Silverman, Ph.D., International Coalition of Sites of Conscience; Kelton Williams, U.S. Customs and Immigration Service, Office of Citizenship
Thursday, October 14
From the Ground Up: Land and History
12-1:30 pm
The historical importance to land to our communities is an essential element of many environmental organizations' rationale for protecting it. This session explores our relationships to land, our perception of what it means to inhabit-or "own"-it, and how it has shaped people's lives, past, and present.
Chair: Mark Howell, Jamestown-Yorktown Foundation, Williamsburg, VA; Ebonie Alexander, Black Family Land Trust, Inc., Durham, NC; Michael Pace, Delaware Tribe of Indians, Bartlesville, OK; Darren Ranco, Ph.D., University of Maine, Orono, ME; Hannah Scruggs, James Madison's Montpelier, Montpelier Station, VA
Friday, October 15
Closing Keynote Panel: Collaborating with Communities
4-5:15 pm
2021 has brought a renewed focus for museums to reach out to their communities. Regardless of a museum's experience, the needs of the community continue to evolve. This panel brings together three community members who have worked with museums to talk about their experiences and a collaborative future.
Chair: Dr. Melanie A. Adams, Smithsonian's Anacostia Community Museum, Washington, DC; Steven Brawley, St. Louis LGBT History Project, St. Louis, MO; Jessie Jaynes-Diming, Tallahatchie County Alliance and Emmett Till Commission, Tutwiler, MS; Iyekiyapiwiƞ Darlene St. Clair, Saint Cloud State University, St. Cloud, MN
*All times are eastern time.
Policies
Waiver and Photo Release
By submitting a registration for the AASLH Annual Meeting, you agree to the following: 
AASLH is committed to 

provide

 a safe, productive, and welcoming environment for all meeting participants and AASLH staff. All participants, including, but not limited to, attendees, speakers, volunteers, exhibitors, AASLH staff, service providers, and others are expected to abide by the Meeting Safety & Responsibility Policy. You can read the full policy below.

 

You authorize AASLH to use, reproduce, and/or publish photographs and/or video that may pertain to you — including you

r

 image, likeness, and/or voice without compensation. AASLH may use this material in various publications, recruitment materials, or for other related endeavors in print and online, including the AASLH website and email correspondence.

 
Meeting Safety & Responsibility Policy
AASLH is committed to providing a safe, productive, and welcoming environment for all meeting participants and AASLH staff. All participants, including, but not limited to, attendees, speakers, volunteers, exhibitors, AASLH staff, service providers, and others are expected to abide by this Meeting Safety & Responsibility Policy. This Policy applies to all AASLH meeting-related events, including those sponsored by organizations other than AASLH but held in conjunction with AASLH events, in public or private facilities. 
Unacceptable Behavior
AASLH has zero-tolerance for any form of discrimination or harassment in any form, including but not limited to sexual harassment by participants or our staff at our meetings. This policy also covers any virtual meetings hosted by the association. 
Examples of unacceptable behavior include, but are not limited to, verbal comments related to gender, sexual orientation, disability, physical appearance, body size, race, religion, national origin, inappropriate use of nudity and/or sexual images in public spaces or in presentations, or threatening, cyber-bullying, or stalking any attendee, speaker, volunteer, exhibitor, AASLH staff member, service provider, or other meeting guests. 
Physical or verbal abuse of any attendee, speaker, volunteer, exhibitor, AASLH staff member, service provider, or other meeting guest or disruption of presentations at sessions, in the exhibit hall, or at other events organized by AASLH  will not be tolerated. 
If you experience harassment or hear of any incidents of unacceptable behavior, AASLH asks that you inform either John Dichtl, CEO, [email protected] or 615-320-3203 or Bethany Hawkins, Chief of Operations, [email protected] or 615-320-3203 so that we can take the appropriate action. You can also or email [email protected]. 
AASLH reserves the right to take any action deemed necessary and appropriate, including immediate removal from the meeting without warning or refund, in response to any incident of unacceptable behavior, and AASLH reserves the right to prohibit attendance at any future meeting. 
Based on guidelines from the American Society of Society Executives, https://annual.asaecenter.org/meetingsafety.cfm. 
Frequently Asked Questions
Are the sessions available to view at a later time? Yes!
General Sessions, Concurrent Sessions, Brown Bag Lunches, and Discussion Groups will be recorded. Recordings will be made available in the conference portal after the end of the conference. Registrants will have access to the recordings in the conference portal for at least six weeks following the live event.
General Session recordings will be made available for free in the AASLH Resource Center after the conference portal closes, approximately six weeks after the live event. Pre-Recorded Session and Concurrent Session recordings will be made available for purchase in the AASLH Resource Center after the conference portal closes, approximately six weeks after the live event.
Will captioning be provided? Yes, captioning will be provided on all sessions.
Can more than one person use the same log in to watch? No. Each person will need to register for the conference to receive access.
How do I register? Register online here. 
I am a staff member of an Institutional Member, what do I need? You need your Institution's membership number to receive membership rates.
I need to register someone other than myself for the Annual Meeting. Can I use my username and password to register them? No. Each attendee will need to register themselves with a unique username and password.
I forgot my username and password to register. Visit aaslh.org, click Membership Center in the upper blue header, and click to reset your password.
I need a receipt. Send an email to [email protected] to request a receipt.