There's no missing Americans' passionate interest in genealogy today. Aging baby boomers have greater free time for research and deepened appreciation for family ties. Massive amounts of demographic and other data are literally at one's fingertips on a computer keyboard. A wider range of racial and ethnic groups are seeking out their family lineages including African Americans, who are delving into their family roots in slavery thanks to the availability of heretofore inaccessible demographic records.
Nevertheless, individuals and families conducting genealogical research rarely take the next step to place their lineage into a broader historical context. What might such a family history look like? I've attached here my own experience in researching and sharing my wife's fascinating family history. It presents details about her ancestors and more recent family members, places them in a larger historical setting, and hopefully conveys our excitement in tracking down their story. I presented it at the 2012 annual meeting of the Alabama Historical Association. I reprised it at the Birmingham Museum of Art as part of the museum's 2013 programming to mark the 50th anniversary of the Civil Rights Movement in the city. (It's a PowerPoint presentation; only three of the 31 slides are illustrated here. If you're interested in viewing the remainder, please send me an email at rcs1565[at]yahoo[dot]com.)
So what can your museum, historic house, or archives do to encourage your constituents to think outside the genealogy box? Here are a few suggestions.
Schedule a photo sharing day at the museum. Staff or outside photography experts can discuss how to "read" photographs for clues about the year the photo was made, details about location and what else was happening in the area at the time, and questions about how the people in the photo fit into the community around them. Then allow each attendee to present one or two of her or his most intriguing photos for analysis.
Conduct a symposium featuring speakers representing different cultural or ethnic backgrounds in the area. Help place local families in the community's diverse history. Your state humanities council is a great source of funding for programs that bring professional historians together with older residents or others knowledgeable about the area's history for a team presentation.
Offer workshops on varying uses of technology and presentation techniques to present one's family history in different formats to other relatives at family gatherings (or through the Internet to distant ones) or to other audiences outside the family. Assist genealogists to improve their oral or written communication skills. By focusing on the task of writing and speaking in public about my wife's family, I needed to consider how it would be received by non-family audiences. Making my talk interesting to others required me to put flesh on the skeletal outline of names, birth dates, marriages, etc.
Market your museum or historic house as a destination for family reunions. Be sure to include a tour in the reunion schedule. Do a little research about the family in advance by interviewing the planner(s) to see how their family fits in with your own site. You might discover a connection between your site and an ancestor of the family. You'd not only come away with more details for your interpretive script, you might even gain new members and donors!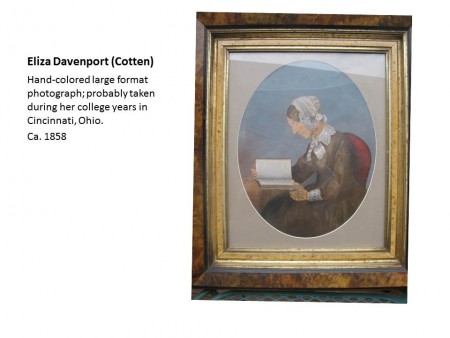 A footnote: I set aside my wife's family history for the last three years, but I plan to dig in again. I'm eager to learn more about my wife's earliest ancestor, Josiah Davenport. His story as a Rhode Island ship owner turned Louisiana slaveholder raises intriguing biographical and historical questions, even if the answers prove ultimately elusive. I'm especially interested in information about Josiah's slaves. To properly follow the trail will require some lengthy road trips: University of Louisiana at Monroe Archives; Georgia Historical Society and Isaiah Davenport House in Savannah (no relation, but perhaps a business connection between the two contemporaries?); and Rhode Island Historical Society. See? If your constituents broaden their family history investigation beyond simply searching Ancestry.com, there's no telling where it might take them!
Robert C. (Bob) Stewart served as Executive Director of the Alabama Humanities Foundation from 1987-2012. Prior to that he held professional and executive positions at history and art museums in Massachusetts, Florida, and Alabama. He is now retired and lives in Nashville, Tennessee.